Couple of weeks ago, the CML published an article The Volatility Option Trade After Earnings in PayPal Holdings Inc.
The setup was:
"The week following PayPal Holdings Inc (NASDAQ:PYPL) has had one fairly consistent pattern — volatility. If we take a myopic view after looking at the last three-years and focus on the last six-months, that pattern is yet more decisive. Irrespective of whether the earnings move was large or small, if we tested waiting one-day after earnings and then holding a long out of the money (40 delta) strangle for one-week (using two-week options), the results were quite strong. This trade opens one-day after earnings were announced to try to find a stock that moves a lot after the earnings announcement."
If we bought the out-of-the-money strangle in PayPal Holdings Inc (NASDAQ:PYPL) over the last three-years but only held it after earnings we get these results: 

 
PYPL
Long out-of-the-money strangle
 
% Wins:
64%
 
Wins:

 

7

 
Losses:

 

4

 
% Return:
 174% 
Tap Here to See the Back-test

The backtest also defines very clear rules for the trade:
* Open the long out-of-the-money (40 delta) strangle one-calendar day after earnings.
* Close the strangle 7 calendar days after earnings. 
* Use the options closest to 14 days from expiration (but more than 7 days). 
 
On July 25, I posted the link to the PYPL potential trade on the forum:
 

On the next day I posted my entry:

Please note that this trade didn't make it into the official model portfolio due to higher potential risk – hence I mentioned "small allocation only".
The next day, some of the members started posting their exit prices:


I was out a day later for 27% gain: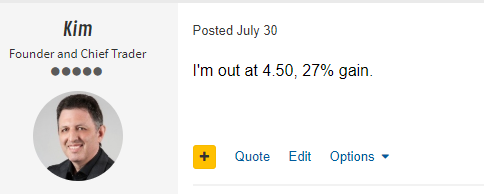 Some members did even better:

And finally an interesting comment from another member:

Those are real trades, from real traders, posted in real time. 
Attention tastytrade: Buying premium does work – you just need to know how to do it.
This is how people profit from the option market. It's not guessing or speculation. Take a reasonable idea or hypothesis, use a rationale system to help overcome cognitive biases, and test it. Tap the link below to learn more: 
Tap Here to See the Tools at Work 
When you combine the best options trading community with the best backtester, the results are unbeatable.
Related articles: