Meanwhile with whole life insurance, the insurance company pays when you die.
As stated before, whole life insurance is a type of permanent life insurance. It lasts your entire life. In addition to this there are other benefits associated with whole life insurance. Whole life insurance also has fixed premiums, accumulates a cash value that you can access during your lifetime on a tax-free basis, and some whole life policies even pay dividends.
Whole life insurance isn't right for everyone though.
As you can see in the table, compared to term life insurance, the premiums are higher.
However, considering that the coverage lasts forever and the policy builds a cash value you can borrow against or surrender for cash, these high premiums are definitely worth it to some families.
Whole life insurance would be beneficial to those who will have people relying on them for an indefinite period of time. For example, if you have a child with special needs or if you are caring for aging parents. In these cases, you should consider buying permanent life insurance coverage to protect them because you aren't sure when they will no longer need your financial support.
If you're regularly contributing to savings and retirement accounts, term life insurance protection is ideal because it's designed to drop off when your dependents are no longer financially reliant on you, big expenses like your mortgage are paid down, and you're soon retiring.
However, if you're not a disciplined saver the common saying "buy term and invest the rest" may not apply to you. This strategy only makes sense if you're actually investing that difference.
If your discretionary income is just sitting in a checking account or you're spending the extra funds on stuff you just don't need then a whole life insurance policy may be a good asset for you. It'll ensure that your loved ones have financial backup if anything were to happen to you and they have the necessary funds to take care of your final expenses.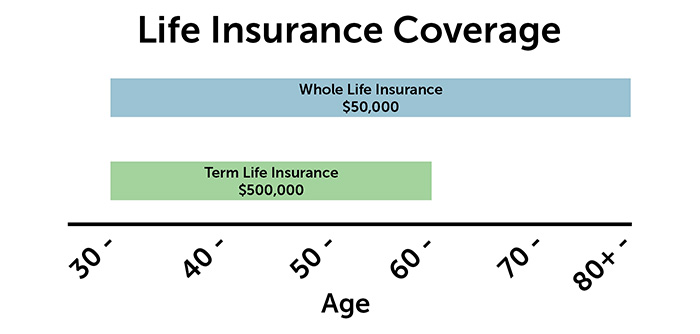 Another good option to purchase is a large term life insurance policy to cover big ticket items like your mortgage and children's college tuition and then supplement it with a small whole life insurance policy.
Whether you buy term, whole, or a little bit of both is ultimately up to you and it depends on your lifestyle and your financial situation. If you're not sure what your life insurance needs are feel free to contact us here at Quotacy and our advisors can help you out.
If you have questions about life insurance make sure to leave us a comment. And if you have any questions regarding today's topic check out this blog: Which Is Better Term or Whole Life Insurance?. Otherwise, tune in next week when we talk about how stay-at-home parents can buy life insurance. Bye!